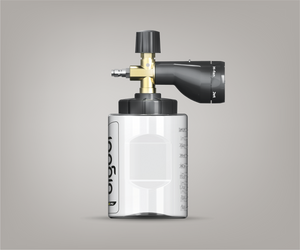 bigboi
FOAMRPRO
Sale price Price $129.00 Regular price
Tax included.
Shipping
calculated at checkout.
The Professorial  PATENTED Foam Cannon for your WASHR FLO or any pressure washer with an G14 1/4 quick connection. 

PERFORMANCE - The bigboi foam cannon will output super thick foam in a 5 WAY PATENTED SPRAY DESIGN when attached to your pressure washer. It provides clean water for rinsing purposes by twisting the soap control knob counter clockwise to its extreme position, and provides rich foam by twisting the soap control knob clockwise to its extreme position, it can be used for cars, motorcycles and boats.

QUALITY - Its core components are made of high-quality brass. Its bottle is made from chemical resistant high-quality HDPE PLASTIC that is thick and durable.

UNIQUE FEATURE -
Newly designed big mouth black plastic cap enables you to screw bottle on and off easily and smoothly. The Big size bottleneck lets you fill soap and water into the bottle with ease and preventing spillage. The newly designed transparent 1 litre bottle has been design with a wider footprint to prevent a top heaviness effect.
It's five way patented technology will allow you to select from the following spray options for exceptional and unique user experience.
Cone- spray's in a cone like pattern allowing a nice coverage of foam.
Jet- Spraying a strong stream of foam in a water hose style, great for wheels and areas that are hard to reach.
Horizontal fan- A horizontal spray
Vertical fan- A vertical spray
Down- Angles the spray in a downwards motion, perfect for the roof of a car preventing wastage and over spray of foam.
SPECIFICATION-
Bottle Capacity : 1L
Material: Brass + Nylon (plastic) + Stainless Steel connector   
Min. Pressure: 1000PSI
Max. Pressure: 3000PSI 

Orifice size 1.15

Min. Flow: 1.4GPM
Max. Flow: 5.3GPM 
Max. Temperature: 140°F                                                                                       
Please note: when you complete your wash, insure you flush the cannon with clean water to prevent any residue build-up.