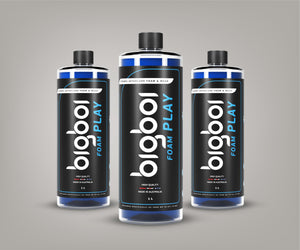 bigboi
FOAMPLAY CERAMIC AFTERCARE FOAM 1L
Sale price Price $59.00 Regular price
Tax included.
Shipping
calculated at checkout.
 Bigboi FOAM PLAY has been developed specifically as your go to all in one Ceramic Aftercare Foam & Wash.
Nothing like starting with a bit of FOAM PLAY! This is the first stage in your paint protection cleaning process. It's a ceramic infused aftercare soap that is designed specifically as a maintenance booster for your ceramic coated vehicle. This will top up your ceramic coating investment and give you that 'just left the show room' look every time!!! It also works on non-coated surfaces and creates a hydrophobic finish that can be built on.
PLEASE NOTE! YOU ARE BUYING 1L ONLY!!!
DO NOT wash your car in direct sunlight to avoid water spotting. Please select a clean dry shaded area for this application.
APPLICATION METHOD PREFERRED BY DETAILERS:
Use up to 100ml of FOAM PLAY to 1L of water in a foam cannon (ratio 1:9). Can also be used as a traditional hand & bucket method wash, using warm water and a wash mitt.
Pressure wash the vehicle using a bigboi WASHR FLO and repeat the process if needed ensuring most of the debris is removed.
Apply FOAM PLAY from the bottom up, allowing the product to dwell on the surface for up to 5min.
Pressure wash the car again to ensure most if not all the harsh debris has been removed.
Traditional hand and bucket wash the road grease in heavy traffic areas if needed.
Repeat pressure wash ensuring all soap and debris is removed.
Air dry the car with a bigboi BLOWR DRYER.
Apply the bigboi QUIKKI to remove any water spots or streaking that may have been left behind by using a clean micro fiber towel. This is the only time a micro fiber towel will be needed or should be used.
Using the above washing cycle, accompanied with the correct bigboi products WASHR FLO, FOAM PLAY, QUIKKI & BLOWR DRYERS, you will be guaranteed that your cars surface will have the safest wash process that money can buy. Your investment is protected to ensure a swirl, marred free, show stopping finish!!!