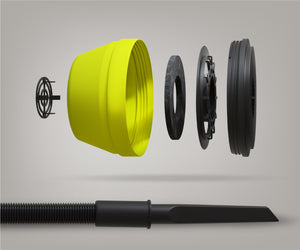 bigboi
BLOWR MINI VAC
Sale price Price $129.00 Regular price
Tax included.
Shipping
calculated at checkout.
The bigboi Blowr Vac attachment is the ultimate addition to the blowr Mini. We are taking your bigboi experience to the next level with this 2 in 1 combination. You now have the ability to air dry the outside of your car and well as vacuuming the inside!
With the bigboi mini's strong 4hp motor, it is set up to produce excellent drying ability and NOW a powerful vacuum which will allow you to clean the inside of your car to the highest level, making this the perfect tool for the car enthusiast or the professional detailer that wants a small, yet light and convenient 2 in 1 solution.
Designed to stay on the mini when first attached, the easy twist off  bagless system makes it easy to remove the debris after the vacuuming is complete, simply twist off the lime housing, shake out the debris and twist back onto the mini housing plate, it's that simple!!! 
A quick tip - We deliberately changed the vacuum hose to black so that you don't get the hoses mixed up. We don't want you to blow all the debris back onto the paintwork so make sure the black hose is only used for vacuuming and the lime as the blowr hose.
After use, we recommend that you empty the debris housing, wipe it clean with a clean towel, replace the filter with the spare filter supplied and wash the current filter so it's ready for the next vacuum cycle. This would be the best way to get the ultimate performance from the vacuum and blower every time. When you are done, simply place the hose guard back into the rear of the hosing to keep the vacuum locking system safe.
Accessories
3 meter black commercial grade hose
Crevice tool
Mini soft brush
Stubborn dirt brush
2 filters